LITERATURA O AROMATERAPIJI
Z eteričnimi olji si lahko pomagamo tako psihično kot tudi fizično. Vedno več nas je, ki si raje pomagamo z naravo in ji zaupamo, ta pa nam vrne po svojih najboljših močeh. Ker pa lahko z njo pomagamo sebi in drugim, je potrebno dodatno znanje. Ozaveščanje o pravilni rabi ter – zelo pomembno – uporabi res kvalitetnih naravnih olj je na prvem mestu. Izogibajmo se sintetičnim oljem in pazimo, da so eterična olja naravna, ekološka in imajo certifikat. Tako bodo eterična olja ne samo dišava, ampak pomoč ob težavah tudi na terapevtskem nivoju. Užitek v njihovem vonju in uporabi ne bo več glavobol, ampak eden izmed popolnih užitkov v našem življenju. Kako hitro pa bodo eterična olja očarala vas, morate preizkusiti sami. Naj vam bodo v pomoč odlične knjige svetovno priznanih avtorjev, s katerimi si boste okrepili znanje o uporabi in o moči teh izjemnih kapljic, ki nam jih je podarila narava. Spoštujmo jih.
Z dišečimi pozdravi!
Prikazovanje 1–18 od 20 rezultatov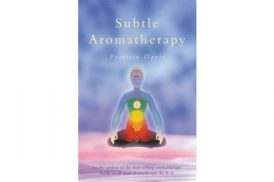 Patricia Davis: Subtle Aromatherapy (Paperback)
€

16,00 z DDV
Description
Although the use of essential oils to help physical, mental and emotional problems has been thoroughly investigated and described over the past few decades, this is the first book devoted solely to their use on a subtle or spiritual level. Written by the author of the best-selling aromatherapy book of all time, Aromatherapy An A-Z, it examines the applications of aromatherapy in personal and spiritual growth, meditation and healing. Topics covered include Vibrational Healing, The Role of the Healer, Methods of Use, Chakra Energy, Essential Oils and Crystals, Meditation etc., etc., with detailed notes on the subtle properties of the individual oils.
Publisher: C W Daniel Co LtdPublished: 30 March 2005Format: Paperback 256 pages